By Kat Liston
The University of Montana, located in Missoula, – was founded in 1893, making it 127 years old, which is ample time for lots of spookiness to occur. The University is said to be one of the most haunted places in Montana. Many people over the years have reported different ghost stories in numerous buildings. Some people have even camped out in buildings overnight to ghost hunt. Here are some of the most chilling places on campus.
Brantly Hall
Brantley Hall used to be a women's residence hall and is now lined with offices. The most well-known of ghosts in this building is a student who committed suicide after the stock market crash in 1929. The custodians tell many tales of her.
It is said that when she shows up, a heat register starts banging starting slowly, then getting faster and faster until stopping abruptly.  "That's when you know she's here", says Custodian Greg.  "She also likes to move things.  She's moved my vacuums to other rooms and hid my cleaning supplies.  I think she likes messing with us."
Many people who work in this building have reported doors slamming, feeling instantly chilled, and distant claps.
The Tunnels
The University of Montana has an entire hidden tunnel system under its campus. These tunnels now protect a three-mile-long network of pipes emanating from UM's steam heating plant. The tunnels were built in the early 1930s. In the early 1930s, women were allowed to use the tunnels to get to the dining hall during bad weather. In the 1980s the tunnels gained notoriety during the early "Dungeons and Dragons" craze. Students often had to get rescued from the tunnels after becoming lost in the dark. Their screams could be heard by people walking across campus. Many students were also arrested for trying to break into buildings through the tunnels. The tunnels have now been blocked by security gates. However, even with these barriers people still find their way into the tunnels. There is one intersection of the tunnels called the "Tribal" area or the "Mole Club", where students have continued to leave their mark in the form of writing a yearly synopsis of current events on the walls. Maintenance staff says there is usually a new addition each year. Along with all the shenanigans that happen in the tunnels, there is also word of a ghost that lurks through them, as well as the other oldest buildings on campus. This ghost has been known for many years as the man in the red flannel shirt. He has been seen with a German Shepherd, who disappears as you bend down to greet him or turns the corner just as you see him.
Main Hall
Main Hall was the first permanent building on campus when it was erected in 1898. This building was all of campus. Students lived here, took classes here, and even had a gymnasium here. So of course, it's on the list for one of the spookiest places on campus!
Another encounter with the man in the red flannel shirt occurred here. Student David Dick stopped in the basement to use the bathroom after having a night class in Main Hall. While washing his hands he saw a man in a red flannel shirt go into the stall. Dick was messing with the stuck paper towel dispenser for a while and thought it was odd he didn't hear any noise from the stall. He checked under the stall and low and behold… no one was there. It has also been reported that the man in the red flannel shirt was seen walking out of the vault in the basement and disappeared into the wall.
In the book Big Sky Ghosts by Deborah Munn, Custodian Jack Mondloch tells of a chilling experience: "One night I was cleaning the sinks in the men's room in the basement," he said. "I was six or eight feet from the door, and I heard someone knocking. I said, 'It's open,' but no one came in. I heard another knock, so I went over and opened the door myself and was surprised to find no one there."
The next night, Mondloch propped the basement men's room door open with a wedge, hoping to deter visitors from knocking. He was cleaning the far end of the room when the wedge suddenly came flying at him, hitting his leg. He was the only one in the building.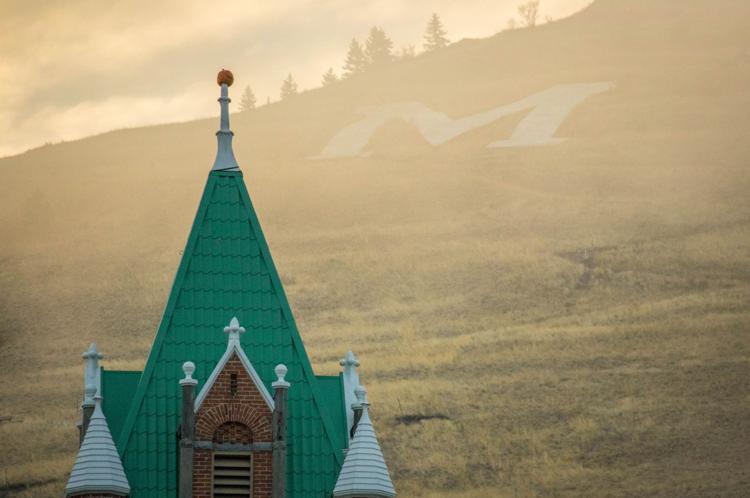 A similar thing happened to custodian Jim Dredger, also reported in the book Big Sky Ghosts. He was cleaning the women's restroom in the basement of Main Hall when he heard a knock at the door. He yelled for the person to come in, but no one answered. Another knock came and this time he opened to door and you guessed it, no one was there. He then turned back around and saw the reflection of a woman with dark hair in the mirror. Dredger turned to see what she wanted but she disappeared. He went back to the hallway where there was no one to be seen or heard.
This same woman is said to have "walked" alongside custodian Cindy while she would retrieve cleaning supplies from the basement. "It was back when there weren't any offices in the basement, but I'd have to get my cleaning supplies from a closet down there.  Almost every night as I was walking down the hall with my mop and bucket, she would be over my right shoulder and a little behind me.  I could just see her out of the corner of my eye.  She was tall, with dark hair, and dressed like she was from the 1940s. When I would spin around to look right at her she was gone."
A couple of other stories come from Pat Bristol, who had an office in Main Hall for many years. "On the first floor, there is a room with copiers and a little radiator," she explains. "Late one night I walked by that room and the radiator was clanging away. But there hasn't been water in it for 15 years. I thought it was strange, so I reached over and touched it. The radiator was stone cold." Bristol believes that all the ghosts are friendly.
While I was giving a haunted tour in July, we were told by a current custodian that their power cleaning equipment will turn off unexpectedly and that when it happens it feels like a cold breeze has just gone by.
Rankin Hall
According to Big Sky Ghosts, custodian Jeanne Talmadge tells of hearing a phantom classroom. One night while she was doing her cleaning rounds there was obviously a class happening on the second floor.  The door was closed, she heard multiple voices and the chairs moving around.  She waited and waited patiently for a class to get out. After getting fed up, she finally opened the door to tell the class to leave and not a single person was in there.
According to the now-defunct newspaper, The Independent, a clairvoyant came to Rankin to assess the spookiness of the building. According to her, there are three entities residing in the building. Jeannette Rankin herself, a former professor who never wanted to retire because he loved his job so much, and a "foul, bitter spirit".
A professor who taught Paranormal Psychology (think Venkman from Ghost Busters) was hit across the head and shoulders by a ceiling tile at Rankin while he was teaching the class.
If you're interested in watching the UM Advocates and the UM Student Involvement Network go on a tour of some of these spooky buildings mentioned, be sure to tune into a live, virtual Haunted Campus Adventure on Tuesday, September 22nd at 8:00 pm on the University Center's Instagram @universitycenter.
Resources and further reading:
https://missoula.com/places/missoulas-old-haunts-touring-the-garden-citys-most-frightening-sites/article_327c00a6-ae0e-11e7-bbbe-2bf9ae361b67.html
Big Sky Ghosts: Eerie True Tales of Montana – Book by Debra D. Munn
https://missoulian.com/news/state-and-regional/tunnel-vision-ums-network-of-underground-steam-passageways-holds-hints-of-the-past-while-9/article_9a1949b8-4835-5163-9575-e69cde0da8ae.html